2013 Haunted Hayride Dates 
 Dates are October  11,12,18,19,25&26
7 P.M.-11 P.M.
 Admission is $5.00
THERE WILL BE NO GROUP RATES AVAILABLE.
We've decided to make it easy on you we now have a Credit Card Machine !!
Refreshments for Sale.
IF IT RAINS THERE ARE NO RAINDATES.  THE HAYRIDE WILL BE CANCELLED.
We hope to see you there.
PLEASE COME BACK TO THE WEBSITE AND GIVE US YOUR FEEDBACK!!
TO HELP US SCARE YOU BETTER NEXT YEAR.

Find all the best haunted houses at hauntedhouseonline.com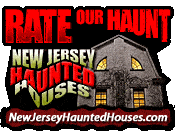 http://www.newjerseyhauntedhouses.com/ Seen on NewJerseyHauntedHouses.com
 https://www.facebook.com/pages/Nesco-Volunteer-Fire-Company/105825059464133?ref=hl